Your bedroom should be a place of peace and tranquility, your place of rest. And even though there are plenty of reasons to embrace smaller-sized spaces, it's quite useful to know some tips and tricks on how you can make a small bedroom feel larger than it is.
Sometimes it can be hard to feel like that when your bedroom is on the smaller side. It might feel like a box with a bed in it!
Here are some tips and tricks you can use to make your small bedroom look and feel a bit larger than it actually is…
1. Minimal Furniture
This might sound obvious but the less furniture you have in your room the better. Your bedroom can turn in to a room of multiple purposes. Find another place for your home office. No chair needed if there isn't the space. Stick to what a bedroom is meant for. Sleep!
Get a good size bed that doesn't take up the whole of the room. If the bedroom is that small you might have to decide between one other piece of furniture. Decide if you need both a dresser and wardrobe. You might only have space for one nightstand. That's ok!
2. Multi-Functional Furniture
With having only the necessary furniture for your bedroom it's important that the furniture you do have has other features. Mainly storage! Think of the best way you can utilize the maximum space out of your bedroom.
This bed has been moved over to the corner making the bedroom seem bigger. The bed is ultra-functional as it's also got storage under the bed.
The bed area has cleverly been transformed into a cozy sleeping nook, sectioned off with just some sheer curtains as a bedroom divider. A really stylish use of bedroom space!
3. Clutter
Keep the floor clear and the room just generally tidy! The more clutter about the bedroom the smaller it's going to feel.
There's a big difference between clutter and styling when it comes to home decor. If the items don't have a storage place in your room they don't belong in your room. Move less used and non-essential items to a different room. Anything you're not attached to, give it away or throw it away if it's past repair. An organized bedroom makes a huge difference in how you feel when you go to bed and when you wake up!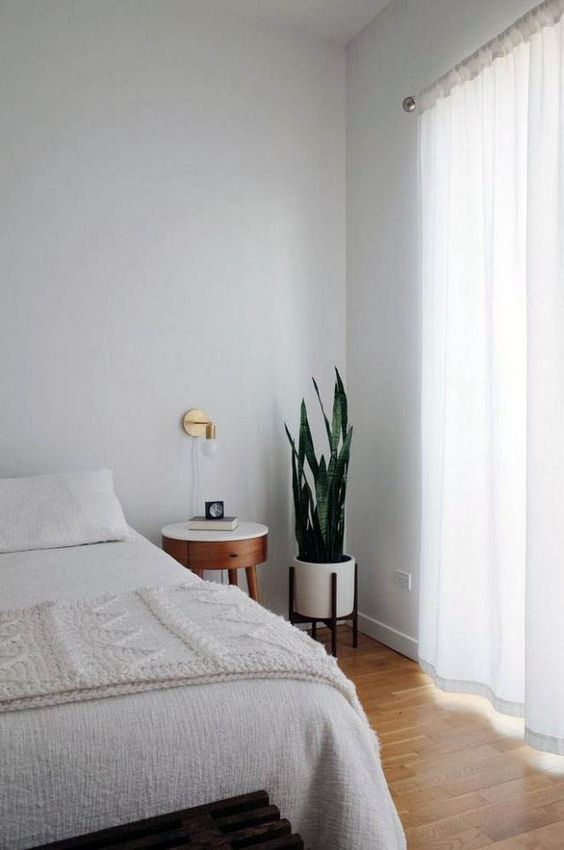 4. Off The Floor
Choosing furniture that is on legs and off the floor helps expand the floor space. Which gives the illusion of a bigger room. A floating nightstand will give you plenty of extra room. The more of the floor you can see the bigger the space feels.
5. Colour Charts
Lighter colours will make the bedroom seem larger. Also contrasting colours have the same effect believe it or not. Using a darker colour helps with creating an elusion of depth with a light colour. So it really depends on your preference for the colour of your bedroom.
6. Wall Space
With limited floor space, it makes sense to utilize the wall area. Putting up bookshelves or ledges to place decor on. Instead of buying a bed with a headboard you can fit a headboard to the wall. Desk lamps can be swapped out for wall sconces for bedside lights.
7. Ceiling Space
Another area you can make use of is the ceiling. Fitting wall sconces may be a bit of extra work. Especially if you're renting. You can use small plug-in pendant lights from the ceiling for lighting which will free up floor and wall space.
8. Windows
Whatever colour you decide to paint the room stick to the same tone for your windows. You can go a shade lighter or darker but it will blend in with the walls. I think blinds are a great idea. It's the least interfering and has a clean look. Sheer drapes have a more cozy and elegant feel.
9. Mirrors
Mirrors will help make your bedroom look bigger. For maximum natural light hang the mirror opposite the window. Mirrored furniture items such as a nightstand will help the room seem larger too.
Which bedroom style is your favourite? Do you have a small bedroom? Let me know which idea you think is the best in the comments below.
Chloe
Feature Image Source: Unsplash