For the final the part of the Spring Cleaning series, as we've just entered the new tax year, we are going to get into office organisation! Now a days most homes have a separate room or area for working. It's becoming more and more common to have careers working from home. Whether it be part time or full time. And the office area is one place where inspiration and order are needed to get some productive work done.
Paper Purge
First things first! Any storage areas, filing cabinets and drawers need to be sorted through. It can be a tendency to just shove papers in drawers for them to be forgotten and left there. Paper work in the office area can be a gruelling task but once sorted and in order you'll feel so much better. The key is good office organisation! Not just looking pretty. Get a good filing system in place and make sure you keep any important receipts and paperwork. Shred anything unwanted or out of date and with private information on it. Once your papers are in order you'll be able to get anything done!
Easy Access
Think of easy access. What items do you always reach for that you need close by? Keep them out on your desk or in a top drawer or cupboard. You can get drawer dividers and trays to keep pens and other items in order. Anything that can free up some desk space like books can go on open book shelves. Make sure the items on your desk are minimal to ensure maximum work space for you. Unless you need absolute focus, too minimal is boring…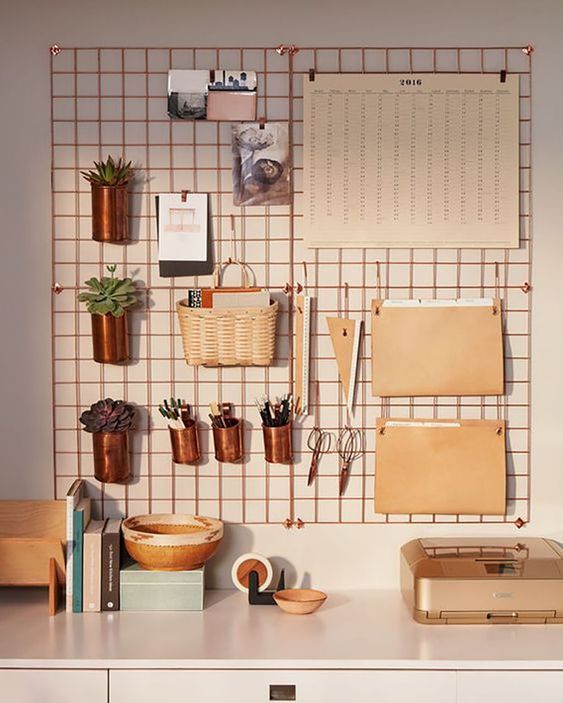 Personalise Your Office Area
This is where the fun part comes in! Decorating! Your working space is so personal. Depending on the work you do and what your personality is like you can get really creative with your office. One thing that I think is a must is a calendar and something of personal inspiration to you. Maybe a gallery wall with quotes and artwork to keep you inspired and motivated. Have fun with it and create a space that you look forward to working in!
Let me know what keeps your home office organised and you inspired in the comments or email me below!
Chloe
[ninja_forms id=3]