Colour in rooms is something is still contended with a lot in home decor. A lot of people tend to play safe and stick with neutrals for the walls and add colour in with accessories. Nothing wrong with that! But are we playing it too safe? A paint colour makes all the difference in how a room makes you feel. But choosing the colour for your room is something a little more permanent than changing up your weekend outfit. The colour you choose for you room depends on a whole range of things. Some of main factors being size, function, sun orientation, personal preference among a few.
But colour is fun and some of my favourite pins from May shows that it's nothing to be afraid of. Here's some inspiration showing paint colours done the right way for different types of rooms!
The featured image in a pink and coral painted rooms. I love the contrast of the traditional mouldings with the bright colours paired against the classic detailing.
Vibrants
A mustard yellow backdrop to this bedroom gives the room a modern tropical vibe. Black accents along with white and the greenery gives it a fresh take.
This painted pink coral kitchen proves that with the right combination its a far cry from girly. Adding black to almost any colour gives it an 'edge'.
Just because you go big and bright on the walls doesn't mean that the accessories have to be muted. This bright yellow bed linens give an extra pop to the teal backdrop.
Moody Tones
Sometimes if you have enough natural light coming in you can pull of a really dark colour without it being depressing. An all deep aubergine colour for the dining room has an elegant look about it.
A crisp lined two toned moody coloured bedroom works well in this space.
Two Toned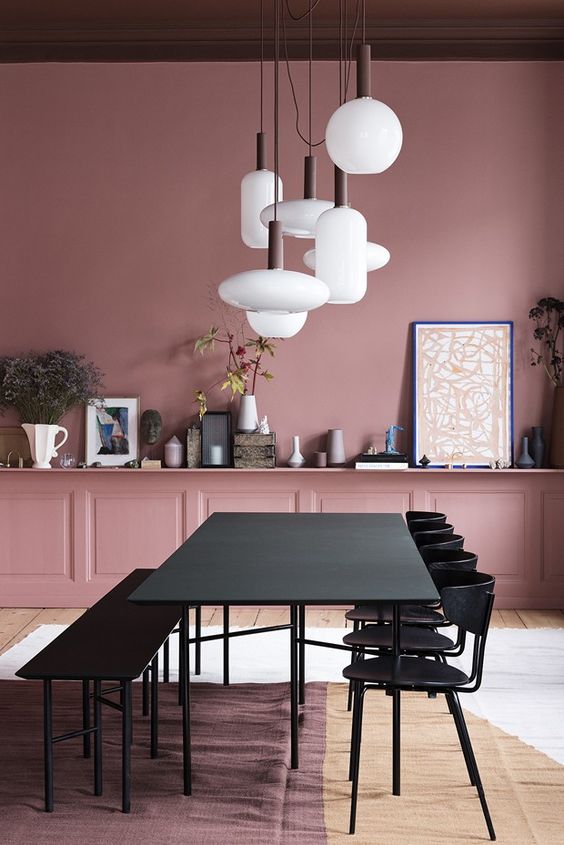 White doesn't have to be anywhere in the picture to pull off a room with colour without being over bearing. These pink walls and maroon ceiling make a great combo!
How about dividing the whole space between two colour? A different way of using two options instead of just on walls.
Colour Neutral
A calming sage green makes for a relaxing bedroom getaway without having to go anywhere!
Colours can still be deemed 'neutral' like this warm spiced terracotta. Natural woods and elements paired with the terracotta really enhances the calm neutral vibe.
Are you thinking of what the best colours for your space are? Need some ideas to get you started contact me for your own e-design.
Chloe
[ninja_forms id=3]