Having something soft underfoot really makes a cozy home. Carpets and rugs are one of the best ways to add some ultra comfort at home. As well as other practical benefits.
Area rugs are a popular choice for the home. An area rug in the living room, in the bedroom and even a rug runner in the kitchen. But there are times that carpet is better. When it comes down to deciding carpet vs rugs what are the main factors to consider?
What Is The Difference Between Carpet And A Rug?
Carpets and rugs are decorated tufted cloths, woven from natural materials like cotton, wool and silks. Also you can get carpet and rugs made from synthetic materials.
In the Western countries the main difference between a carpet and rug is that carpet covers the whole floor space. And is a fixed floor covering fitted wall to wall, to the size of the room.
A rug is a partial floor covering not permanently fixed to the floor. And available in different shapes and sizes which you can move around your space.
However if you are travelling in the Middle Eastern countries and Asia, carpet and rug refer to the same thing. (What we refer to as an area rug). There the difference is a carpet is made from a thicker and heavier material and is larger than a rug. Carpets are usually hand knotted with a design on one side.
Where a rug is usually of a lighter weight and the design is shown on both sides and a smaller size. For a rug the size is around 4 feet by 6 feet and less. A carpet is bigger than 4 feet by 6 feet.
Carpet vs Rug
Area Rug Advantages
Floor rugs offer so many different patterns, colours and styles for the interior design of your home. From modern styles to traditional design rugs and are an excellent choice in terms of design and flexibility.
1. Decorative focal point
Having a beautiful rug can be a great focal point for a living room or a bedroom space. Rugs help define main areas for seating and other zones.
One of the best ways to design your living room is to pick out a rug first. Picking out your rug first can provide the colour scheme for your walls and the design for your whole room. Picking an area rug is a great way to add some contrast to your wooden floor.
2. flexibility
The best thing with area rugs is that no professional installation is needed. You can roll out your rug and put it wherever you like.
This means it doesn't have to be positioned in one room the whole time. This is good if you like to keep your home refreshed with minor decor changes here and there. Or if you easily get bored with how your home looks. You'll be able to take your rugs with you when moving house.
3. cleaning and maintenance
Mess and accidents are bound to happen at some point. Depending on what type of rug you have it's easy to spot clean your rug.
If anyone in your family suffers from dust allergies, then a rug may be a better option than carpet. As rugs can be easily removed from the room for a deep clean. Some rugs you're able to put straight into your washing machine.
4. floor protection
Area rugs help protect your hardwood floors from scrapes and damage. For high traffic areas in the home they can help reduce the long term damage over time.
5. temporary fix
One of the main advantages for rugs is being able to move it around easily. But this doesn't mean that it can't be secured to the floor.
Having a rug pad or anti-slip mat underneath will help stop the rug sliding about. And offer extra protection for the floors. You can even tape the underneath of the corners to make the rug more secure.
6. affordability
Rugs usually come in at a lower price than having carpet. The cost of rugs can vary widely. But there will be various rugs that will suit your style and budget.
7. layering rugs
Even if you already have carpet down you can still layer a rug on top. This may be a more affordable option than ripping out your old carpet and fitting a new carpet in. Layering a rug over a carpet looks great in a bedroom or a living room.
Rug CONS
Area rugs can be a trip hazard even when secured in place. Especially rugs that are thick material and rugs with fringes.
Cost can vary widely depending on the rug quality, the material and the size. A vintage oriental rug and handmade rugs and cost even more money.
Rugs might be prone to fading when in direct or bright sunlight. Remember to rotate the rug every now and then to minimize any fading.
Only certain areas of your floor will be protected.
Depending on the fabric choice of the rug some spillages can cause permanent staining. Silk rugs and jute rugs stain easily with just water as they're made of a softer material. Be aware of which rug you place and where.
Best Places To Shop Area Rugs Online
Carpet Advantages
Carpeting an entire room definitely has it's advantages and there are lots of types of floor coverings to choose from. Here are a few reasons why carpet might be better for you.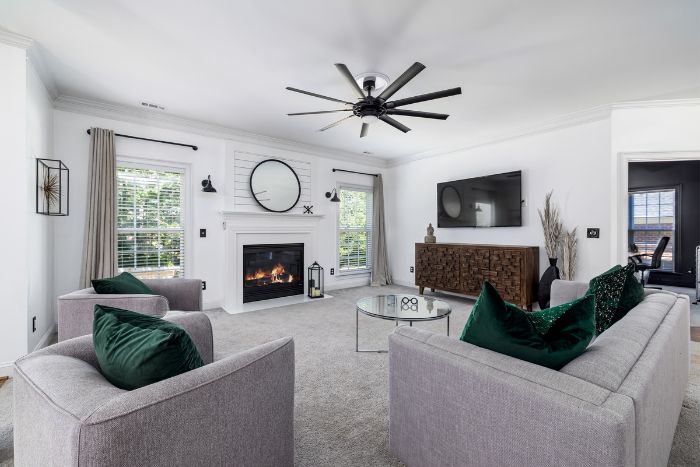 1. Cozy room
Having the entire space in wall to wall carpet will give a cozy feel to the space. And you won't have to worry about walking barefoot in your room. Putting down carpet helps with keeping the heat in the room. Giving your home some extra insulation.
2. Noise Reduction
If you've ever heard a loud bang from something dropping upstairs on a hard floor, you'll know. The noise can be heard throughout the house. Carpeting the upstairs could reduce the noise a significant amount. If you have small children that play upstairs, carpet will help minimize some of the noise.
3. No Trip Hazards
You won't have to worry about trip hazards with carpeting a room. This is something to think about if you have elderly people or young children with you.
4. A unified look
Choosing a nice tufted or soft pile neutral carpet will keep design decisions simple if you're struggling with what to put in your main rooms.
carpet CONS
When putting carpet down you won't be able to take it with you when moving house.
Carpet usually costs more than the average rug but it is a long term investment.
Carpets can get patchy depending on where the foot traffic is the most. Creating a worn look in some areas of the room.
If anyone suffers from allergies in your family, carpet may not be the best choice as dust mites gets easily trapped in carpets.
For cleaning your carpets properly, professional cleaning can be expensive.
Rooms Best To Use Carpet and Rugs At Home
Living Room – Great for defining seating areas and adding extra comfort.
Bedrooms – Nice to add in a bedroom for soft flooring under foot in the mornings.
Hallways – Textured rugs offer protection for high foot traffic in hallways. Carpet or rug runners are good for upstairs landings and stairways.
Home Office – A nice decorative feature to add for interest.
Dining Rooms – A rug will ground the seating area. Just make sure the rug is big enough that the dining room chairs still fit on when they're pulled out from the table. To avoid a trip hazard.
Things To Consider carpet vs rug?
Long term or short term stay?
If you're staying short term then carpet might be for you next move. For short term or long term rugs are a great option as you can take them with you.
Take into account all the family members who live there. They're needs and age will play a big part in what you think is best for each space.
The condition of where your living?
Is your area prone to flooding? Or are you living in an older house? Make sure that any issues that could cause water damage is fixed before fitting carpet.
Ideally rugs should have at least 18 inches space from the sides of the room. So for small rooms, carpet may work out to be a good idea. But you could go either way with a nice rug or carpet. Work out the square feet area of the room to see what the cost difference is.
Weigh the pros and cons of fitted carpet or a rug for yourself.
Chloe
This post contains some affiliate links which I may make a small commission from should you purchase something. For more information check out the disclosure and terms and conditions page.