Gallery walls are everyone's favourite decor addition to the home. You can't go very far on Instagram or Pinterest home decor without seeing a good gallery wall. It's not going anywhere soon. With so many ways to display your personal and creative side the gallery is great feature to your home. Here are 12 ways you can display your favourite photographs and artwork.
1. D.I.Y
This idea is so fun! Instead of buying frames, black frames have been painted around the artwork. A totally different way to display your artwork.
2. Structured
By just using the same black frames and arranging them in a structured formation the coloured photographs stand out on the wall.
3. Hanging Hooks
Still sticking with the ever popular black frames, you can opt to hang your frames from hooks. Here they've added a layer by using smaller frames in the front.
4. True Gallery Style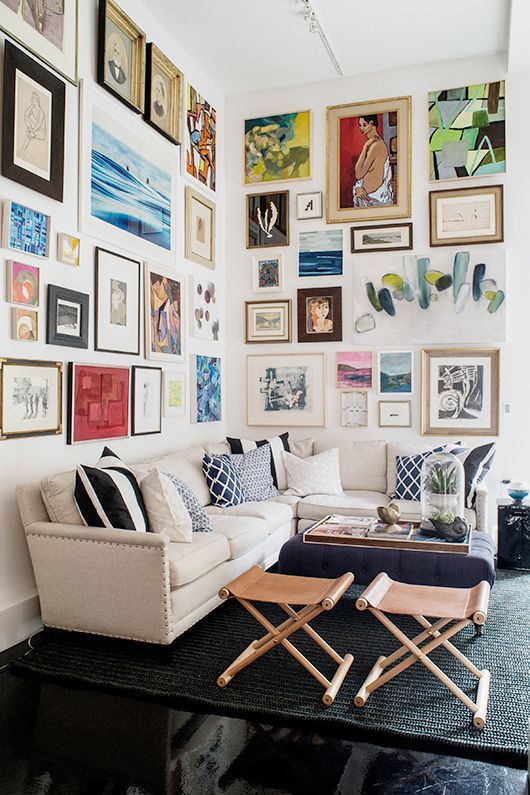 This is my idea of a true gallery wall. A mix of canvases, frames and sizes take up the corner of this eclectic wall.
5. Taped Wall
Another fun wall to show off your art work. Framing your posters and prints by bordering them with coloured tapes.
6. Linear
Sometimes simple is better. Back to the classic black and white photos in all the same size in a linear formation.
7. White Wash
You can play around with different styles of frames in various sizes and unify the look with one colour to make your gallery wall stand out.
8. Postcard Wall
Using postcards is a cute way to build up your gallery wall.
9. Layered Shelving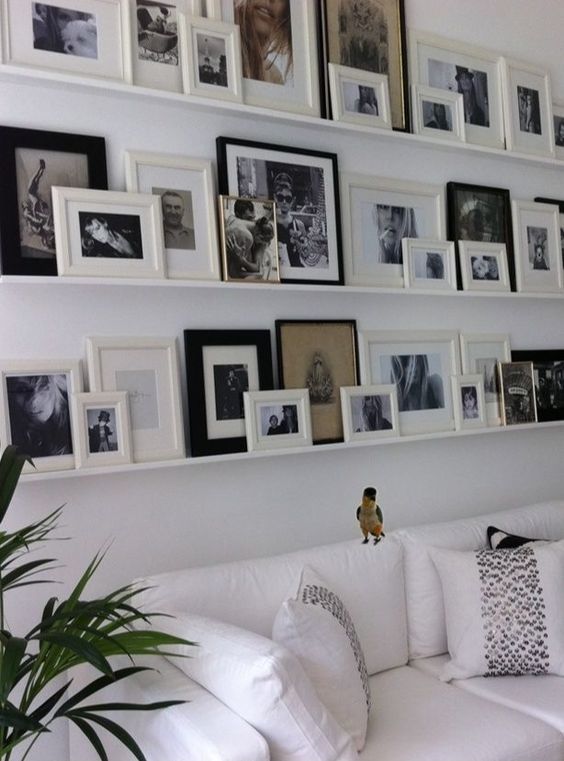 Shelving is a nice way to layer your photo frames using neutral colours and multiple sizes of frames.
10. Multiples
Multiple photos within one big frame add a couple of these next to each other and you have another option for a gallery wall.
11. Chalk Wall
The chalk wall! Use a chalk paint on a wall and combine your notes and ideas among your art work. A great idea for the kitchen or an office space!
12. Minimal Adhoc
A gallery doesn't have to take up the whole wall. This minimal arrangement is just as effective look for a gallery wall.
Let me know which your favourite gallery walls are in the comments below!
Chloe