Using sliding door designs for the interior home can be a great way to free up space within a room. Sliding doors can just be tucked away in the walls or over a wall which leaves you with a bit more space to include when deciding layouts and furniture.
They can be used to separate and divide a room with ease or to open up the flow of your home. It gives you the flexibility to change between an open concept layout or screened off spaces. They're also handy for hiding away storage units when not in use.
Whether you thinking of something a bit fancy and customized or just something a bit more plain and function orientated here are some ideas of where and how to use them in the home.
Sliding Door ideas
Sliding Door ideas for Bedrooms
Using a traditional pocket style of door is nice option if you want to keep it tied in with the rest of the home.
Using sliding doors in a studio apartment is smart way to open up the space and close off areas when needed. A bright colour clearly denotes the bedroom boundary and makes the space more fun with a bold accent wall.
This is a great idea for making a focal point in a basic new build studio apartment.
This is a cool idea! A sliding door that doubles as opening the entry way and hides the bookshelf unit.
Sliding doors for Offices
This big solid sliding door is used as a noise and privacy screen for when busy in the office or to hide the laundry units. The light blue colour helps soften and reduce the size.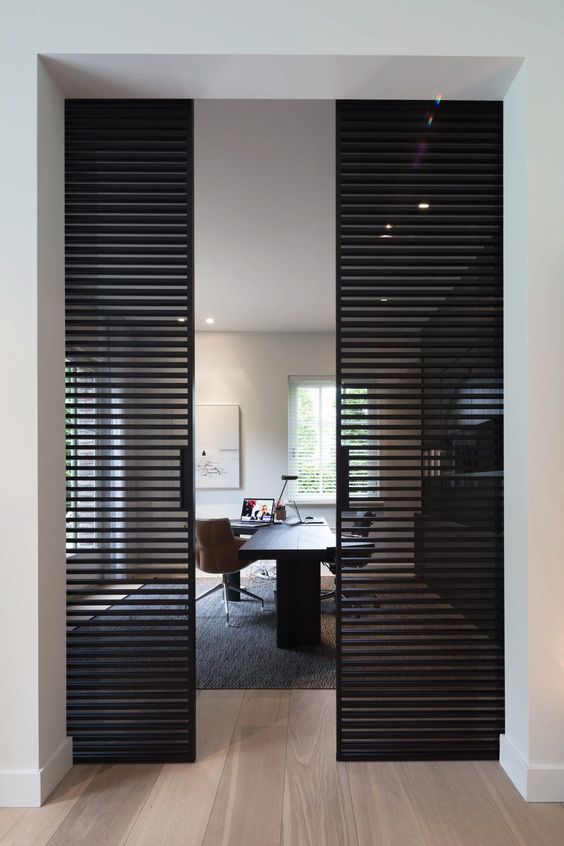 I love this modern office design incorporating these black slatted doors. There's enough privacy to work but still able to see what's going on beyond the office if need be. This is also a great example of an feng shui office set up.
Sliding doors for bathroom
An ultra modern bedroom interior is screened off from the bathroom ensuite with a sophisticated slatted sliding door. With a design like this it also lets natural light filter through to some areas where ordinarily it would be darker.
Even though these panels are solid wood. The slimline profile and pattern helps it seem a lot lighter. A kind of Japandi style design.
These floor to ceiling glass translucent sliding doors are a perfect to keep your bedroom separate from your bedroom.
Interior Glass Sliding Door
I love this design take on a track "barn door". Typically a solid wood door is used but this is a modern industrial design using metal joinery and textured glass. The look is duplicated in the room to keep the design aesthetic of the room.
If you have a small living space a glass sliding door might be an ideal option to help keep the feel of the space open. A broken living plan gives flexibility and keeps the light through the home.
Sliding Doors for closets & Storage
If you have your closet in your bedroom you might not want to be looking at your clothes last think before you go to sleep. Having a wardrobe with sliding doors is an ideal solution to keep things out of sight.
Sliding closet doors a more permanent than just a bedroom divider. And it's a chance to get a bit more creative as well.
Sometimes the simplest of materials can be used to keep the clutter away. This storage wall uses raw chipboard but it works well within the white room. Using sliding doors for organizing your storage cabinets is a great idea.
The TV doesn't have to be the centre of attention in the room. Especially when it's not being used, keeping your media units behind a sliding wall is a decorative and functional use to the space.
Sliding Track Barn Doors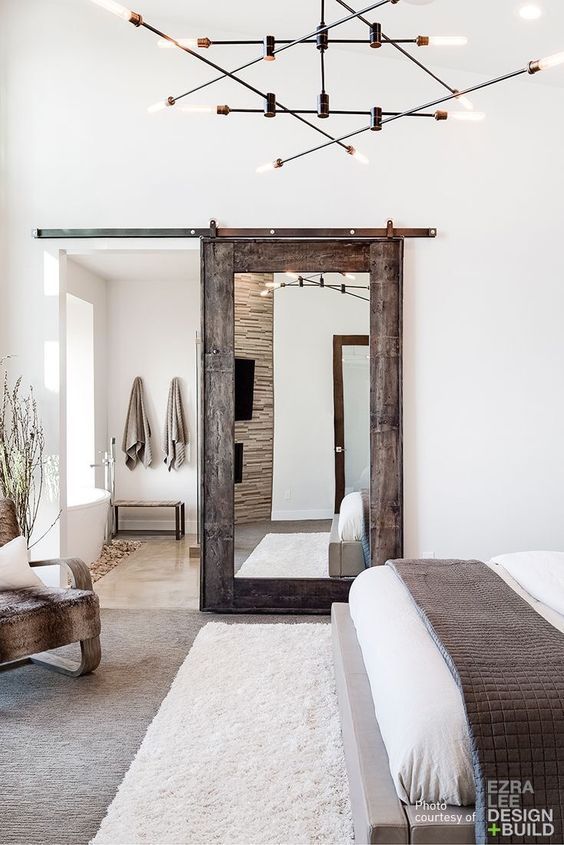 A great idea is to add a mirror to the sliding door. It doesn't have to be only applied to closet doors. This bedroom adds a full length mirror on the door leading to their ensuite. It makes the bedroom seem bigger and doubles the natural light in the room.
A heavy duty barn door will maximise the space while keeping the room private when needed.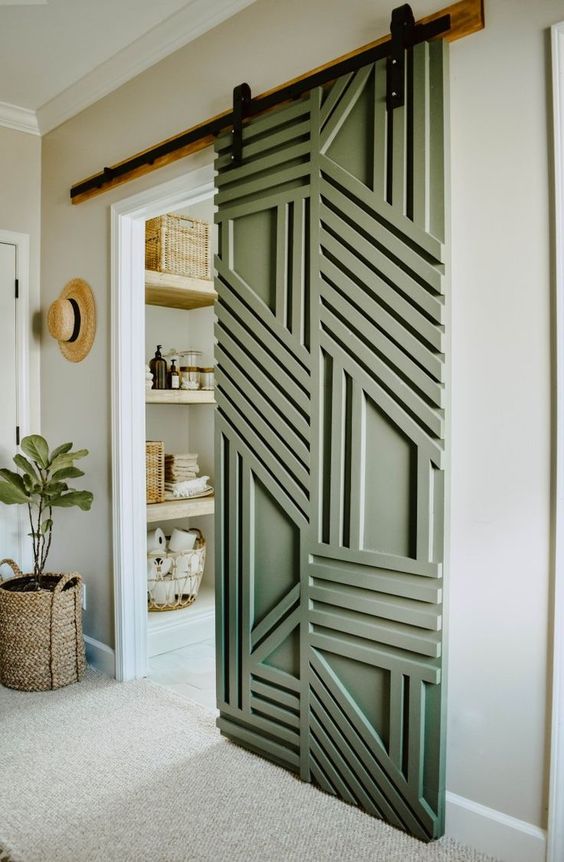 A sliding barn door on a track can be highlighted as part of the room instead of fading into the background. This creative abstract pattern DIY barn door is a great way of adding interest to the space and making it a feature.
Is there an area in your home where you could do with the extra space? Would you consider adding sliding doors as an option? Let me know in the comments below!
Chloe