Colour is such a personal thing! Especially when it come to your home and even more so your bedroom. Your bedroom isn't really on show as your living room or kitchen is to other people. So the only person you need to be catering to is yourself. Colour is an essential part of creating a calming bedroom space for you to unwind and relax in.
Choosing the right paint colours for your bedroom depends on a lot of things. Space. How big or small is your bedroom? Light. How much natural light do you get? And you. What colours are you drawn to? Also how well you sleep or do not sleep.
Apart from getting the main things in order for your bedroom like layout and organization of the space, the colour come in next. A good sleep promotes good health and well-being and colour of your bedroom can enhance the positives or pile on the negatives.
Here are some beautiful and calming bedrooms, all in different colours. See which colour appeals to you the most and the feeling you get from it…
Whites
Using a white paint colour in the home is a popular option. White is calming, neutral, reflective and you can pair any other colour with it without worry. It's a popular colour because it opens up the space and gives you blank canvas to work with for furniture and decor. The colour white symbolises purity, innocence, simplicity and cleanliness.
A positive of using white means the start of new beginnings. While negative connotations include isolation, emptiness, unimaginative and boring.
Cream colours on the other hand have a bit more warmth to them and aren't as harsh as whites can be. The feature image bedroom interior is soft and warm cream colour, design by Olivia Thebaut.
Use White If…
You're an early riser and you like to feel refreshed in the morning and you like everything neat and tidy.
Blues
Blue is another trusted colour, and that's exactly what the colour represents. Trust, responsibility and loyalty. Which is probably why its used so often. With so many shade variants you can spend a long time picking the right kind of blue. Try shades of blues that mimick nature for a calming bedroom like this sky blue colour.
Blue is seen as conservative and predictable colour in a good way. Different shades of blue tend to have different meanings. The wrong kind of blue can be seen as sad and depressing instead of the stress reducing properties its well known for.
Use Blue If…
You need some serious down time when you go to your bedroom. Blue is the ultimate stress reducer.
Greens
Green reflects the outdoors inside. It terms of symbolism green is great colour to use in your bedroom meaning growth, renewal, harmony and balance. Green is associated with nature, trees and living things, tying it to the biophilic aspect of interior design. Which is why its a good colour to be around. It also represents abundance and prosperity.
Use Green If…
You like nature or feel low on energy before you go to sleep as it's said to signify renewal and re-birth. Using green is another colour good for reducing stress.
Browns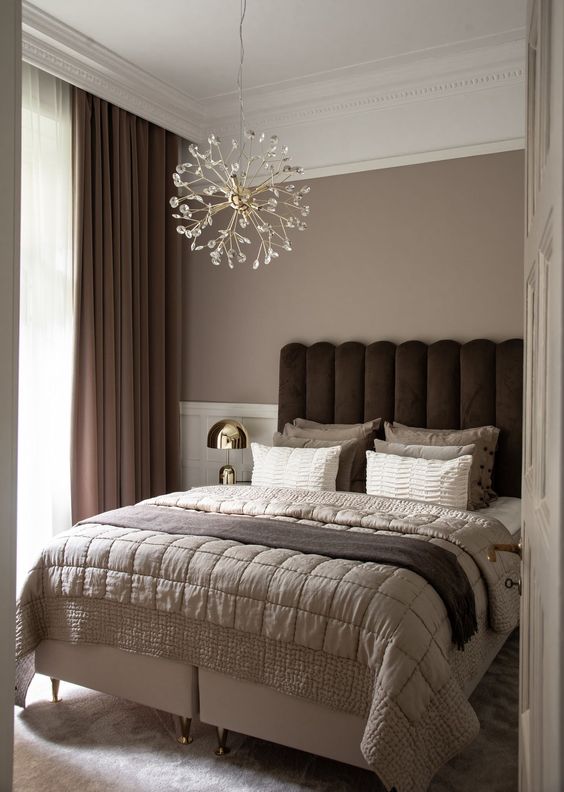 Choosing a brown colour for a bedroom is not often considered but it should be. Brown represents support, structure and stability. You can layer darker browns in the room and opt for creamy cappuccino colour on the walls just like bedroom of Hanna Friberg.
This bedroom has a calming sense about it but also a down to earth tone. Brown signifies strength, belonging and comfort. On the flip side brown can mean dull, depressive and boring. Though this bedroom is definitely the former.
Use Brown If…
You want an understated but a unique bedroom look.
Pinks
Pink is a great colour to have in a bedroom. It signifies love, nurture and understanding. Depending on the shade of pink it can lean toward a more immature look. Where as a deeper pink or blush can give a more confident and assured look.
In the world of psychology pink represents hope and emotional energies.
Use Pink If…
If you're going for look that is a bit more up lifting and energising but still calming.
Greys
Greys have been seen in every room of late. It is calming, solid and has enough drama to it without it being overpowering. A neutral colour which can evoke a formal but practical element to it. Grey is an elegant colour to choose for a bedroom, a colour of compromise mysterious yet stable.
Sometimes grey can be seen as strict and boring.
Use Grey If…
You feel like a neutral colour is the right direction but white is too cold and black is too much.
Black
Using black in the bedroom is still seen as unusual for a calming space. Black has definitely seen a revival in other areas of the home. Black is commonly associated with fear, darkness and depressive qualities but it's also seen as a colour of protection. Moody rooms can be elegant and cozy.
The colour also represents sophistication, solidarity, power and confidence.
Use Black If…
You want to create a super cozy and intimate space that you can fall easily asleep in. Use the colours from the furniture to balance out the black.
Choosing the right colour for you and your bedroom is going to have a dramatic effect on how you feel and how you sleep. Colour is a personal choice so make sure it's the best one for you. Let me know which paint colour you think is best in creating a calming bedroom in the comments below!
Chloe