As always there are some interior trends that we see pop up over the course of the year and longer. And 2020 has been the year of staying home, so there's been lots to look at for interiors and decor!
A lot of us will be wanting to get out about to other places as soon as possible! But our home is where we always have to come back to regardless of how much time we do or don't spend there. If anything 2020 has taught us to appreciate what we have and to maybe put a little more effort in where we set our abode.
Here are some interior trends that I think will be sticking around for the year of 2021!
1. Earthy Coloured Interiors
Although I think white will always be a classic for the home and any space, for next year things are moving towards more of the bold colours for our home. Earthy, dark but warm colours that are comforting and cozy and not just as accent wall.
Bold and dark colours are being embraced and no longer seen as overbearing and depressing. With even black being used in bedrooms as well as kitchens and other areas of the home.
Brown toned colours like Brave Ground from Dulux and Urbarne Bronze from Sherwin Williams have set the tone for the colour palette of 2021.
2. Wall Panelling
Wall panelling looks so custom and polished in the home and looks great in many styles. I've seen a lot of great DIY wall panel looks. It seems quite easy to do. Whether you're looking to add some character to the space or make it multi functional by incorporating a ledge, wall panelling will work great in any room. As a modern or traditional look.
3. The Home Office
The home office has often been seen as only for the high flyers and techies but 2020 has shown us that's not the case. If you weren't working from home before, you probably had to at some point this year. Even if you were already working from home you might have had to carve out some extra working space for a partner or your kids.
You might be more than ready to get back to the work office but a setting up a home office might be something to think about for the future. Just in case. Whether its a part time or a permanent basis.
Set it up right and you'll actually enjoy working there!
4. Biophilia Design
Bringing nature into our home plays an important part in creating a home we enjoy. For the duration of this year we found out just how important connecting with nature has been. With more of us retreating to parks and open nature as it was one of the only places to go.
Tiny balconies became precious real estate in adopting the indoor outdoor living concept. Especially in the summer months. People without their own outdoor space were finding any way possible to get closer nature. Just by trying to increase the daylight in the room made a difference.
There are lots of ways to incorporate biophilia design in to your home. Lots of natural daylight, wooden surfaces and textures. As well as plants, floral patterns and prints can work wonders in making us feel more connected to nature.
This is going to be important, not just for next year but for the years to come.
5. Rattan & Wicker
The rattan and wicker trend was mentioned last years interior trends and it's as popular as ever. There are so many great home decor pieces from Ikea, H&M and other major stores. Not forgetting the smaller businesses and individual sellers who use Etsy to sell their unique pieces.
Rattan and wicker is functional and practical and be made into almost anything from lighting, headboards, chairs, baskets and wall decor. All while being environmentally friendly and sustainable. It suits that boho relaxed look as well as modern setting and almost any other look you're going for. Popular all around!

6. Sustainable Decor
Using sustainable materials and processes have been increasing thought in the interior world. With more ideas on how to re-use and up-cycle materials that previously, might have gone to waste. Materials like rattan and cork are being used more for home due to their fast growing nature. As well as their all round properties and durability.
How sustainable you decide to shop and live is another question in itself. With shipping, packaging, ethics and fair trade being things to consider. It's a personal choice as are most things with home and life.
These cork doors is an option for the Ikea Pax system. Its modern, chic and multi functional.
7. Second Hand Furniture
Buying used furniture has lots of benefits. One of them being if you get it for free! A lot more people nowadays are looking to what has been and making it their own. Either by a lick of paint, a sand down or a whole new repurpose.
Searching for some good hand furniture and up cycling is one of those interior trends that's good all round. You get to save some money and turn a piece of furniture into something totally new.
8. Handmade Pieces
As much as we all like to shop the latest looks in home and in fashion, sometimes it's nice to get that one thing only you have. Whether its vintage, thrifted, handmade by you or someone else its an individual personality piece.
If thats done by supporting a local business or artist or getting creative yourself and looking up a course or tutorial, it's nice for that piece to have a story behind it. I think that's what a lot of us are looking for in todays world…
Some individuality and something special.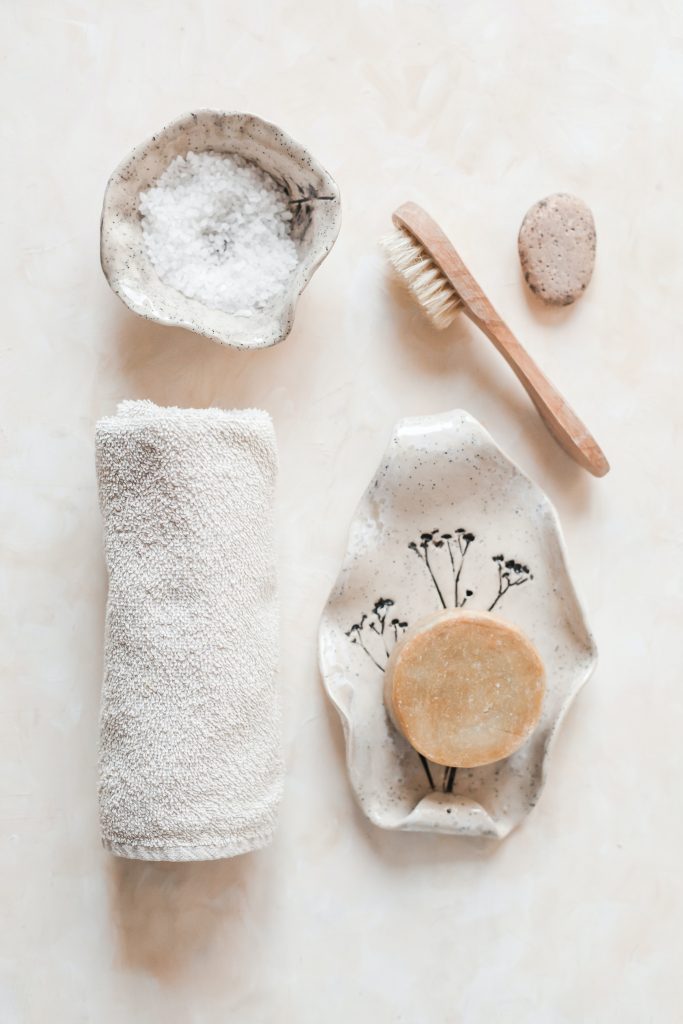 9. Curved Pieces
Curved sofas have been making the rounds more frequently in interiors this year. Using curved pieces of furniture adds interest and softness to the space. There has been some lovely interior designs using curved sofas.
Also curved mirrors are taking over with oval and arch shaped mirrors taking over the plain rectangular shape. The mirror that flooded the pins and interior timelines, the gorgeous mirror from Anthropologie.

10. Dried Flowers
Bringing in nature to the home with plants and greenery, I think is always going to be good for the home and the persons living there. However one of the biggest trends for 2020 has been the use of dried flowers in home decor. I love it!
Dried flowers create a delicate, sculptural, vintage feel and you can use them again and again. There are simple methods to drying them yourself or you can buy them as is. A simple but beautiful decor idea.

What have been you favourite interior trends for 2020? Which ones will you be adopting or keeping for the year of 2021. Let me know in the comments below and any trends you think should be on the list!
Chloe
Source: Eddy Lee – Unsplash
This post contains some affiliate links which I may make a small commission from should you purchase something. For more information check out the affiliate and terms and conditions page.