Dining rooms should be a happy place! After all, our dining area is where food is involved. Where you get to eat meals with your family and loved ones. So it's important to get your dining area just right. Which means creating an attractive and practical space that works for your home.
This means selecting the right table and chairs. And choosing materials that will be practical. Consider those times when you might be hosting more people than usual too. Other elements include lighting that's suitable for anytime of the day. And decor that suits your style and personality.
Here are the best dining room tips that will help you to design your perfect dining space.
Dining Room Tips
Dining Room Function
The function of a dining room sounds pretty obvious, we eat there…
But some of us like more traditional dining spaces where we have a separate room for just eating. And for others the dining space is where we eat everyday and for dinner parties. So a dining nook just off the kitchen might be more ideal. Some people have the option of both, an everyday dining area and a dedicated dining room to hosting.
Think about how it's best for you and your family to eat on a day to day basis. Creating a mood board always helps!
Also think about extra things like entertaining for special occasions If that's something you like to do. You might need to buy an extendable table if you have enough room to do so.
1. Where Should Your Dining Area Be?
The first thing is deciding where your dining area will be. That depends on the layout of your home. And where you think the dining room is best placed. The lifestyle and family that you have is of course a major factor for deciding your dining room layout.
There might be spot available in the kitchen or the living room. Or you may have a separate dining room. A good rule of thumb is keep your dining area as close to kitchen. So you're not having to travel too far back forth with plates and hot food.
2. Selecting the Right Dining Table and Chairs
Choosing the right size dining table and chairs is crucial for creating a comfortable, functional dining space. Your room's size and purpose play significant roles in selecting furniture that suits your needs while also enhancing your dining room design.
The space you have will determine the scale and size of your table and the seating arrangement you choose. Such as how many people do you need to seat on a regular basis?
People should be able to get in and out easily with enough space to pull their chair out. You should allow for at least 24" around your dining table with your chairs for easy access.
Which Dining Table?
If you have a spacious dining room, rectangular or elongated oval tables are ideal choices. These shapes allow ample seating capacity without compromising on style or functionality.
Rectangular tables work well with both traditional and contemporary settings due to their versatile nature. Oval tables that are extended in length can lend a sophisticated feel to any dining space, ideal for both formal and relaxed gatherings with friends.
Round tables are a nice way of creating an intimate setting where everyone can see each other. And they're a good shape for smaller spaces.
Extendable tables are great for casual dining without taking up extra space on the day to day. But can seat more people when needed.
The base of the table is also important. With a pedestal table you can seat more people around the table and it has more leg room.
Tips when choosing your dining table:
Ensure there is enough space around the table to accommodate chairs comfortably. Leave a minimum of 24" space between chairs when pushed out from the table and the walls of your dining room or furniture around the table.
Select the material for your table that fits your lifestyle, wood, glass or metal.
Pick an extendable dining table if you frequently host large gatherings.
Choosing Dining Chairs
Depending on how much room you have and if it's a casual sitting area or formal there are a few things to consider:
Dining chairs with high backs offer more support and have a elegant look. High back dining chairs are a perfect fit for a formal dining room with high ceilings.
Consider if you want your side chairs to have arm rests. Make sure you check the height of your table so that the arms of the chairs fit under the table easily.
Castor wheels on dining chairs make it easy to slide in and out from under the table. And less likely to scratch wooden floors when moving around. (Maybe not ideal if you have young children. It'll be play time instead of meal time!)
Upholstered fabric chairs give a more comfortable and cozy feel for staying around the table and chatting after meals.
There should be 8" – 10" space between each dining chair for people to sit comfortably without disturbing the person next to them.
Standard dining chairs are what we tend to think of when using a dining room. But there are various styles for dining chairs and other seating alternatives.
Seating Alternatives
Benches are great for mixing up furniture styles and if you have limited space. And won't overcrowd the area visually as it can be tucked under the table.
A fixed seating booth is ideal for a small dining space. This is a great idea for casual everyday family seating.
Tips when choosing dining seating:
Consider the seating finish and material. Hard surfaces like wood and metal are easy to clean but you may not want guests seated there for a long time. You can always add a cushion for extra comfort. Or it may be ideal if you just want to eat there and move to a more comfortable space like the living room after.
If you have children at home opt for spill-resistant fabrics, leather and wooden surfaces which are easy to clean.
Choose a seating style appropriate for the type of dining space you're designing. If you have low ceilings choose a chair with a low back.
When choosing the perfect dining table and chairs, take into account both your room's dimensions, the dining room table height and your desired style.
3. Putting Dining Room Furniture Together
There are lots of different ways to put together your dining room furniture. Don't be afraid to mix different styles of chairs around your table – this eclectic approach can make for an engaging visual display.
Shop the second hand stores and online markets if that's the look you're after. Consider choosing ones that complement your existing table or other furniture in the room. Look for chairs with interesting shapes, materials, or upholstery patterns that can serve as conversation starters during family gatherings.
Or for a transitional or a simple modern look go with the same style chairs around the table. Another styling option is choosing a different style of chair for the two ends of the table. And keeping all the side chairs the same style.
If you're using a round dining table, stick to one chair style. It creates a unified look and it can be awkward trying to fit different style chairs around a round table.
4. Small Dining Room Spaces
It's always nice to have a dining area in a small space if possible. Mirrors are excellent at reflecting light and creating the illusion of a larger space even in a small dining area.
Using seating that has a low back that doesn't take up visual space is better for small spaces.
Chairs that have an open style back that you can see through are visually light and have the same effect too.
Ghost chairs are another option, depending on the space you have free. Fixed booth seating is also a great idea to save room.
Folding chairs that can be put away and hung on a wall are a great idea too.
Stools that can be easily stored under the table when not in use.
You can use a small round table as long as there's enough space around the chairs. A pedestal table is visually lighter so that's ideal for a small space.
For small dining areas where it's really tight, multifunctional tables will save you so much space. These tables can be fixed to the wall and folded away when not in use.
5. Dining Room Colours
Choosing a wall colour is a big factor for your dining room and depends on where it's located. For a dining space that's part of an open concept the colour is already chosen. But you create a feature wall to help define the dining room area in the space.
If you have a separate dining room that gives you a chance to go for a different colour. Depending on the vibe you're looking to create. For a minimal look, pick light colours or warm neutrals. A dramatic and intimate dining room used purely for social gatherings, you can try choosing rich and deep colour tones.
Mixing Patterns for Visual Interest
In addition to playing with colour schemes, incorporating multiple patterns can further enhance your dining area's aesthetic appeal. Experimenting with wallpaper is a way to make an impact with your dining space too. You can try a subtle textured wallpaper. Or go for a bold pattern print for a modern design.
Start by choosing two complementary patterns that share at least one common colour hue. Then layer them throughout various furnishings (e.g. curtains, table linens and chair cushions).
To avoid overwhelming the space with too many patterns, maintain a balance by incorporating solid-coloured elements that coordinate with your chosen prints.
To ensure a cohesive look in your dining room design, consider the following guidelines when mixing patterns and colours:
Select an overarching colour palette to guide your choices. This can be based on existing elements within the room or inspired by a specific piece of artwork or fabric.
Choose one dominant pattern as the focal point for your dining area; then incorporate complementary secondary patterns to create visual harmony.
Maintain consistency in scale if you opt for large scale prints on chairs or drapes, stick with smaller scale designs elsewhere (e.g. tableware).
6. Features For Dining Room
Incorporating art and wall features into your dining space can make it feel truly one of a kind. Here are some inspiring dining room ideas you can try for a unique space:
Gallery Wall: Create a curated gallery wall featuring an eclectic mix of framed prints, photographs, and paintings that reflect your interests and passions.
Oversized Canvas Art: Make a statement with an oversized canvas art piece. This can serve as the focal point in your dining room design.
Shelving Display: Display decorative items such as vases, sculptures or even small potted plants for added visual interest. This could be in a fixed bookcase or floating shelves.
Accent Wall: Another way of creating interest to your dining room is by using wallpaper on the wall behind your dining table. Or a wall mural covering or a textured wall.
A Statement Mirror: Using a statement mirror is a great way of bringing even more attention to an amazing light fixture over your dining table.
Panelled Walls: Panelled walls and moulding can add character to your dining space. With a traditional or modern take on the feature.
These ideas also make a great focal point for your dining room to add impact.
7. Dining Room Lighting Tips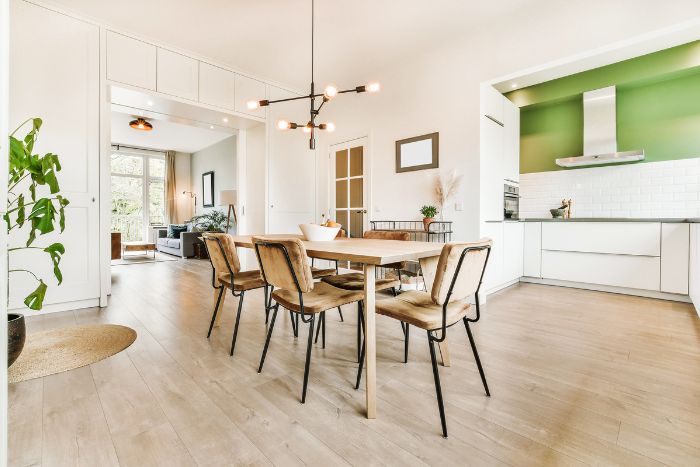 If you're looking to create the perfect dining room, lighting is key. Not only does it provide necessary illumination for meals, but it also sets the mood for family gatherings and dinner parties. It's important to have different lighting sources to change the light setting easily. Another bonus is having your lights on dimmer settings.
Statement Lighting
The dining room is the perfect place to make a statement with your lighting choices. So a chandelier or a pendant light fixture is great statement piece for over the dining table. And is a strong focal point of the room.
Just make sure the light fixture is the right scale and hung at the right height.
Your light shouldn't be bigger than your table width or lengthways.
Leave about 6" of space between the light fixture and each end of the table. So the light doesn't extend past the length of the table.
And the ideal distance should be around 30" – 36" from the bottom of the light fixture to the table top. It should be high enough so the light isn't in the way. But not too high that the light feels separate from the dining table. It should all work together.
If you're struggling to decide on a light, a simple design guideline is to follow the shape of the table in your light fixture. If you have a round table, reflect the shape in the light fixture. For a long rectangular table use a linear or rectangular light fixture.
You can use smaller circular pendants over a rectangular table, but opt for two or three in a line centre to the table. Or one large circular pendant for small rectangular or square tables. So there's enough light spread across the table.
Accent Lighting
Wall sconces are a versatile option for adding accent lighting in your modern dining room design. They provide soft illumination while also serving as decorative elements on the walls.
When choosing wall sconces for your dining area, consider their size and style. Opt for sleek metal designs or sculptural shapes that complement the overall aesthetic of the space. Place them symmetrically on either side of a large mirror or artwork to create visual balance.
Candles and small lanterns as dining table decor create an intimate ambiance that encourages conversation among guests. For added safety and convenience, consider using flameless LED candles.
Battery operated alternatives come in various sizes, colours and even scents. Perfect for setting the desired atmosphere in your dining room.
Tips for Layering Lighting
Choose lighting fixtures that complement each other in terms of style, material and colour to create a cohesive design scheme.
Incorporate dimmer switches so you can easily adjust light levels depending on the occasion or time of day.
Aim for a mix of ambient (general), task (focused) and accent (decorative) lighting sources to achieve optimal illumination throughout your dining area.
Don't forget about natural light – ensure window treatments allow plenty of sunlight during daytime hours while still providing privacy when needed at night.
Incorporating statement lighting options is key to creating an inviting atmosphere within your dining room. By layering different types of lighting you'll achieve a stylish and functional space that's perfect for hosting memorable family gatherings.
8. Dining Room Area Rugs
Creating a visually appealing dining space goes beyond just selecting the perfect dining room table and chairs. Incorporating a stylish area rug underneath your dining table will help zone your dining room area. Rugs soften the area and help protect the wooden floors from scraping chair legs.
A dining room rug might not be necessary in a smaller space as it can crowd the floor space and make it look cluttered. The rug shouldn't overlap other areas in the space. Even in an open concept room, space can still be limited.
Using a rug for a dining area is a good idea in larger open concept spaces and there's enough space between each different area. As it will help define and anchor the dining area away from everything else.
An oversized patterned rug is an excellent way to add character to your dining area while also providing comfort underfoot during family gatherings. When selecting a rug take into account elements like size, fabric and colour.
Tips for area rugs
Size: Ensure that the rug is large enough so that all of the dining chairs remain on it even when they are pulled out from the table. An extra 24" – 36" of rug space is ideal.
Material: Opt for durable materials like wool or polypropylene which are easy to clean and maintain. Outdoor rugs are a great option for under dining tables.
Rug Thickness: Think about the thickness and texture of the rug especially if you have dining chairs on castor wheels. You want the chairs to be easy to pull out. Low pile rugs are best for under the table.
Colour Palette: Choose colours that either contrast or complement your existing decor theme – don't be afraid to experiment with bold hues. If you're choosing a white rug or a light colour make sure it's wipeable man made material to avoid staining. Darker coloured rugs are more forgivable.
Pattern: Select designs featuring geometric shapes, abstract motifs or traditional patterns depending on what best suits your personal style preferences.
Adding a stylish rug can really transform your dining room. And create more of a focal point for the dining area.
9. Extra Dining Furniture Pieces
You'll probably need some storage to house your dinnerware and glassware or a drinks area. So think about other furniture pieces you'll need in the dining room. Console tables, a buffet or built in storage is ideal. A bar cart can work equally well for a smaller dining space.
For a unique dining room, incorporate vintage pieces and antiques to create a one off design. These timeless items add character making your dining area truly stand out from the rest.
FAQs for Dining Room Design
How Can I Make My Dining Room Better?
To improve your dining room choose the right table and chairs that fit the space. Maintain style continuity with other rooms in your home. Incorporate statement lighting options, colour schemes and patterns. Select stylish furniture pieces like antique pieces and decorative items.
How Should a Dining Room Be?
A well designed dining room should have comfortable seating. And enough space for movement around the table. It should also feature proper lighting to create an inviting atmosphere during meals. Consider incorporating elements of texture through fabrics and materials to add depth to the design.
What Every Dining Room Should Have?
A complete dining room must include a suitable table and chairs set based on available space. And use appropriate lighting sources like pendant lights and wall sconces. Functional storage solutions such as cabinets and sideboards are helpful too.
Decorative accents such as artwork, mirrors, rugs and window treatments are attractive. but down to personal preference. Have on hand practical dinnerware sets along with cutlery and glassware collections.
What Makes a Good Dining Area?
A good dining area is defined by its ability to comfortably accommodate diners, offer an inviting atmosphere, and showcase the homeowner's personal style. Key elements include proper spacing between furniture pieces for easy movement, appropriate lighting that sets the mood, cohesive design choices that blend with other areas of the home. And functional storage solutions for dinnerware and accessories are a must!
Dining Room Tips Takeaway
Designing the perfect dining room is all about combining style and functionality that suits you and your lifestyle. Design your dining space for everyday purposes first if you only have one dining area. These dining room tips will help you design a space that's inviting and practical for family and entertaining that reflects your personality and style.
Chloe
This post contains some affiliate links which I may make a small commission from should you purchase something. For more information check out the disclosure and terms and conditions page.